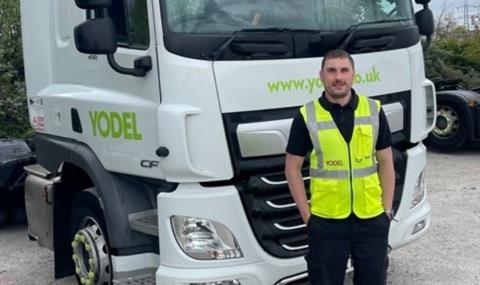 Parcel carrier Yodel is looking to take on 30 new LGV driver apprentices across the UK who will receive a "significant" starting salary on completion, which will be "considerably more" than the industry average.
Applications for the apprenticeships will close this Friday (21 May) with successful candidates starting in July.
The new apprentices will train for a category C+E licence at one of Yodel's three national sort centres in Hatfield in Hertfordshire, Willenhall in the West Midlands and Shaw in Oldham.
In the first 15 weeks of the scheme, the apprentices will learn first-hand what goes into sorting and delivering parcels and receive on-the-job training for their theory and practical driving tests.
Read more
In a statement this week the parcel carrier, which handles over 160 million parcels a year, said: "Apprentices will initially earn considerably more than the industry average for entry-level LGV1 apprentices, with this increasing as they achieve various milestones to eventually reach a higher-than-average annual salary upon completion of their licence in less than a year."
Nathan Price (pictured) had been working for Yodel as a sorter/loader for nine years but decided he wanted to make a career change to driving so applied to the apprenticeship programme: "I have always wanted to drive large vehicles since I was a lad, therefore when the opportunity came up to join the HGV Apprenticeship programme I grabbed it with both hands," he said. "I can't fault the training, the entire team are very friendly, supportive and professional. I thoroughly enjoy being behind the wheel of a large vehicle, one of the largest vehicles on the road, it's just fantastic."
Carl Moore, chief operations officer at Yodel, said: "We give our apprentices a driver buddy to support them through the LGV training and they have the opportunity to learn from the best in the business with our expert driver trainers.
"We're aiming to have our apprentices achieve their licences in time for the 2021 Peak season, and to be driving solo by around February 2022. The roles are an exciting opportunity for those looking to get started in a driving career and show that they can go the extra mile."
Applications for the apprenticeships will close this Friday (21 May) with successful candidates starting in July.
Applicants will need a full, clean UK driving license and GCSE maths and English at grade C or equivalent. More information on Yodel's apprenticeship programme can be found at: https://yodelopportunities.co.uk/about-us/lgv-driver-apprenticeship/.