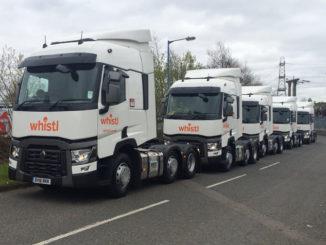 Parcels, mail and e-fulfilment specialist Whistl has launched a £12m fleet expansion and renewal programme.
The company, which has its headquarters in Marlow, plans to update its fleet with 17 Peugeot Boxer 435 vans, 43 ridged trucks and 126 Renault T-Range tractor units over the next 12 months.
In addition, it will be bringing in 115 new trailers, including 70 new box trailers, 30 new XL rated curtain trailers and a further 15 curtain XL rated trailers with tail lifts fitted.
The Peugeot Boxer 435 Vans are on leases so that Whistl can swap them with electric powered replacements when they become available, the company added.
Read more
Whistl, which has revenues of around £820m, handles in excess of 3.6 billion items a year. It specializes in providing mail, parcels, leaflet advertising, fulfilment and contact centre services in the UK and internationally.
The fleet expansion programme comes as Whistl also moves to consolidate all its transport fleet across the group this year under a new transport management system which aims to better utilise the fleet, maximise loads and reduce mileage.
Alistair Cochrane, Whistl chief executive, said: "We are continuing to invest in our fleet right across the group including the businesses we have acquired in the last few years, such as Parcelhub.
"It is important that we ensure that we operate efficiently and as environmentally sustainable as possible; our flexible lease contracts on the Boxer Vans reflect this."