Vision Techniques will be heading to the Freight in the City Spring Summit next month to showcase its vehicle runaway prevention technology.
The group will be highlighting its multiple award-winning and British built VT BrakeSafe safety system.
It has been developed to automatically prevent vehicle runaways by applying the handbrake if a driver forgets when leaving the vehicle.
The system, which is active whether the ignition is on or off, also monitors air braking pressure to prevent tractor trailer coupling rollaway.
It won five industry recognised awards last year including the Best Innovation Award at the Motor Transport Awards.
"We are very excited about attending this year's summit. We are also showcasing enhanced cyclist detection this year with our VT TurnAware system, which eliminates the need for unreliable ultrasonics," a spokesman said.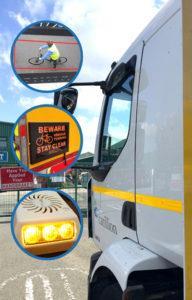 "This new technology uses video analytics to recognise any approaching dangers. By combining a blind spot camera with a CPU that looks for light, movement and pixel density, the TurnAware system can detect an approaching cyclist whilst ignoring objects moving in the other direction, including road furniture. It effectively prevents false alarming."
Vision Techniques will also be demonstrating VT Record, its DVR video recording system.
"VT Record gives fleet managers peace of mind with 360° footage around the vehicle capturing any event to provide evidence and prove liability, saving money on claims and insurance policies," said company sales manager Steve Smith.
The Freight in the City Spring Summit takes place 1 March at Edgbaston Stadium. Reserve your free place today.
By David Craik