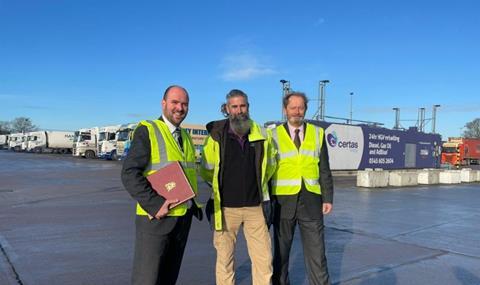 The transport minister gave a keynote speech at an event this week to highlight the essential roadside facilities required by HGV drivers.
Hollies truckstop in Cannock was the location for the event, which called for the "lorry driver's voice" to be at the heart of improving rest stops.
Roads minister Richard Holden (pictured left) said: "For decades, lorry drivers have been the unsung heroes of our economy. As they do here at the Hollies truck stop in Cannock, hauliers should always enjoy top quality food, in safe, world-class rest areas and plenty of parking space wherever they go.
"That's why we're providing more than £52 million to improve roadside facilities so that we can boost drivers' welfare, guarantee them the security and peace of mind they deserve, and make driving an HGV a truly attractive career of choice."
Read more
A £32.5m scheme for the government to match-fund investment in improvements to facilities was recently launched.
This is on top of £20m being invested through National Highways.
Transport Focus, which arranged the event, said security, management of parking, quality and choice of food along with a welcoming atmosphere were some of the things lorry drivers said they valued.
David Wells, Logistics UK chief executive, said: "The lack of suitable facilities has long-since been acknowledged between industry and government, and Logistics UK is seeking rapid progress on delivering the results that have been promised for years, through funding and the planning system."