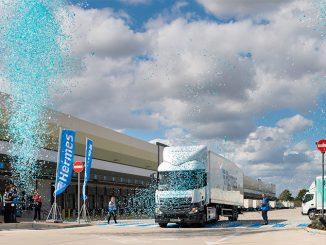 The rise in online shopping and courier activities over the last decade means there are now 11 local authority districts in the UK where transport and storage has become the dominant industry, official figures reveal.
The Office for National Statistics (ONS) said in 2011, transport and storage was not the main industry in any part of the UK.
However, by 2021 there were almost a dozen regions where it had become dominant and included Rugby in Warwickshire, South Holland in Lincolnshire, Peterborough and Doncaster.
Rugby had the highest percentage of business units used for transport and storage in 2021 (17%).
Newport (10%), North Lanarkshire (8%) and Antrim and Newtownabbey (8%) were the highest ranking in Wales, Scotland and Northern Ireland, respectively.
Read more
The ONS data also showed that in terms of scale, West Northamptonshire had the highest number of business premises occupied by transport and storage, with 3,200.
This was followed by Leeds (3,100), North Northamptonshire (2,700) and Birmingham (2,500).
The ONS said that the emergence of the Midlands, the East of England and Yorkshire and The Humber as logistics hubs reflected the growth in the number of hauliers and couriers over the last 10 years.
Earlier this week, Parcelhero said the "astonishing" growth in courier depots and distribution centres highlighted in the ONS data was not being reflected in rates of pay.
It said one reason was that fewer new jobs were being created because warehouses were increasingly automated.