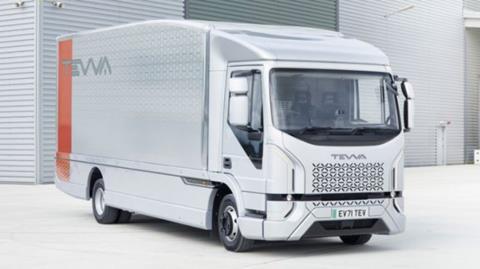 Tevva Motors has signed a deal which will see Canadian firm Loop Energy supply £9.9m of fuel cell systems in the first year as the manufacturer prepares to meet surging demand for its hydrogen electric trucks in 2023.
The two-year agreement with Loop Energy includes delivery commitments worth over £9.9m for 2023 alone.
Announcing the deal this week Loop Energy said that the "significant surge in order volume in 2023 increases Loop Energy's confidence that it will meet and exceed its previous purchase order guidance.
"The growth in order volume indicates the commercial mobility sector's willingness to adopt hydrogen fuel cell technology as a zero-emissions solution."
Ben Nyland, Loop Energy president and chief executive, added: "The market for zero-emissions commercial vehicles continues to develop quickly, and this supply agreement with Tevva puts Loop Energy on the path to not only technology leadership, but fuel cell market leadership.
Read more
"This is amongst the largest fuel cell product supply agreements in recent years. The contract with Tevva is indicative of the surge in interest we see in Europe for hydrogen-electric vehicles and the fuel cells that power them.
"Tevva is quickly establishing itself as a leader in the zero-emission commercial vehicle market in Europe, and we are looking forward to providing the fuel cell systems they need to succeed."
Asher Bennet, Tevva founder and chief executive, said: "Development of our hydrogen electric truck platform has been extremely encouraging, and we are seeing growing demand for our product line.
"Loop Energy continues to show it can support our production targets and provide a fuel cell solution that will deliver lower costs and improved performance to our customers. As a result, we are moving closer to our corporate goal of reducing 10 million tonnes of global transportation CO2 emissions by 2030."
Tevva unveiled its first hydrogen electric truck alongside Loop Energy at the inaugural RTX Show in Warwickshire last week. The manufacturer is forecasting that the first of its trucks will hit the road this year.