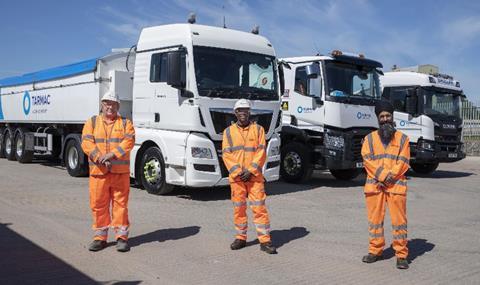 Building materials and construction firm Tarmac UK has reached a major milestone in its commitment to shift its entire fleet to Euro-6 standards by the end of this year.
This week the company announced that the 1,750th HGV in its fleet has become a Euro-6 truck, making 90% of its fleet compliant.
Tarmac operates one of the largest HGV fleets in the UK, which includes tankers, rigid tippers and mixers, as well as mechanical moving floor articulated trailers. Much of its fleet is operated by contract hauliers who, Tarmac said, have been directly engaged in the Euro-6 rollout process.
Sean McGrae, senior manager of national transport at Tarmac, said: "As a leading sustainable business it's vital that we continue to actively improve the emissions standards for all of our vehicles and we've been accelerating this process as part of our wide-ranging environmental commitments.
"Having our 1,750th vehicle become Euro 6-compliant is a significant achievement. We are on course to have 100% of our HGVs reach these standards by the end of 2021, which will represent the culmination of a comprehensive, strategic four-year process.
"This move for Tarmac reflects equally our support for our clients and partners who share our net zero ambitions, including local authorities across the UK – many of whom have been declaring climate emergencies and beginning to introduce clean air zones."