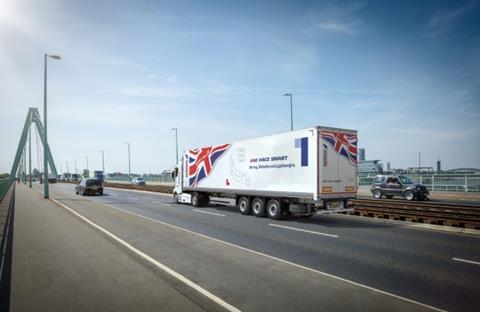 Schmitz Cargobull is to mark the opening of its new trailer factory in Manchester with the launch of a new SKO lightweight dry freight box van developed specifically for the UK and Irish markets.
Aimed at parcels and express operators the 13.6m trailer weighs 6.5 tonnes fitted with three axles - 600kg lighter than typical competitor products - and is available in three heights up to 3.2m.
Boris Billich, director of sales at Schmitz Cargobull, said the opening of the £2.3m Manchester production site and the two-year development of the new trailer were intended to help the company – Europe's largest trailer builder with an overall market share of 22% - double its 11% share of the north western European market which includes the UK and Ireland.
"Our ambition is to reach 25% market share across Europe," said Billich. "I am optimistic that we will build 65,000 units this year."
Schmitz's total production fell from a peak of over 63,000 units in 2018/19 to 42,470 in 2020/21. It expects the Manchester site to build 400 units this year, all dry freight and reefers, and all equipped with Schmitz's TrailerConnect telematics.
Alan Hunt, UK MD for sales and marketing, said his goal was the take 14% of the UK market by 2024 while Paul Avery, UK MD for operations, said the new tandem or tri-axle trailer was also aimed at the ambient food and high security markets. The new SKO Pace Smart model features a 2.49m internal width, aluminium barn door or roller shutter rear closure, carrying capacity of 33 Euro pallets weighing up to 24 tonnes, lightweight Struktoplast panels, a galvanised chassis guaranteed for 10 years and Rotos axles with disc brakes. It can be fitted with load restraints to protect parcels including rear parcel safety nets or gates, and has a standard floor strength of 5.5 tonnes, with options to increase to 7.1 tonnes or 8.0 tonnes.