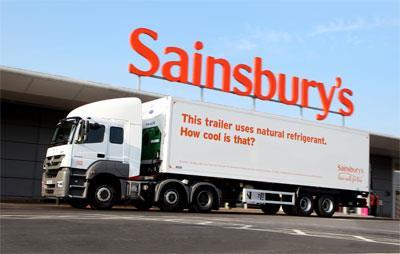 Supermarket giant Sainsbury's has launched a major restructuring and consolidation of its logistics operations which will affect around 7,000 staff, the retailer announced today (12 April).
The strategy will see 3,000 staff, who currently work for Sainsbury's, transfer to one of Sainbury's three logistics partners - DHL, Wincanton and GXO Logistics.
Another 4,000 staff, who currently work for one of the three logistics companies will move to another one of the partner businesses.
The restructuring will see different logistics contracts across the UK combined into just three contracts with each contract dealing with a different type of product.
In the past the business has had different contracts for different products in different locations. Now the contracts with its three partners will be nationwide.
Announcing the strategy, Sainsbury's said it will "move to three dedicated partnerships across transport; food; general merchandise and clothing by the end of 2024, instead of multiple different contracts across the network.
"These network-wide changes will mean that Sainsbury's can operate at a national level for the first time, as well as making best use of its partners' expertise to provide better service and availability for customers, drive innovation and facilitate the sharing of industry best practice.
"The changes will also allow the business to invest further in modernising its logistics operations and improving customer service, in line with its food-first strategy."
Sainsbury's said that GXO will operate its contract to help run several fresh and frozen food warehouses, while Wincanton will deal with the transport operations across most of the network.
DHL will deal with the general merchandise network, which includes Argos, Habitat and Tu Clothing, as well as warehouses and transport for large general merchandise items for home delivery.
Read more
Employees were informed of the plans today and will be consulted on the changes.
A Sainsbury's spokesperson said: "The terms of their employment are covered by TUPE regulations and no one will have to move to a new place of work"
Sainsbury's chief executive officer Simon Roberts said: "We know these are big, bold changes and we have invested a huge amount of time planning this transformation to make sure it is successful.
"We believe our logistics and fulfilment operation will be one of our key competitive advantages in the future and today's announcement will benefit our whole network through knowledge sharing and increased innovation.
"We're confident that these changes will help us continue to invest where it will make the most impact for customers, now and in the future.
"We understand that this is an important announcement for affected colleagues within Sainsbury's, Argos and across our logistics partners and we will support them through this consultation process.
"With these changes, our focus is on improving the service we offer our stores and customers, accessing global expertise and providing new career paths for the future – no matter which partner our colleagues are working for."