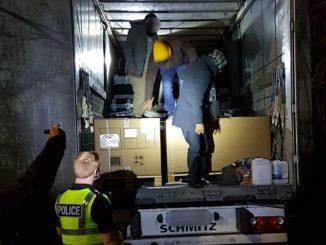 Lorry drivers in Northamptonshire have been given advice by the police about organised immigration crime and what they can do if they have concerns.
Officers worked with the DVSA to speak to HGV drivers using the M1 near Crick as part of a week of action tackling serious and organised crime.
Vehicles travelling from the country's ports were targeted using ANPR and then pulled over so that the police could engage with the drivers and also check the safety standards of their trucks, as well as to spot any signs of people trafficking.
Read more
DCI Nick Cobley, said: "We targeted lorries that had travelled into the country and were using our road networks, checking vehicles and speaking to the drivers about the risks associated with immigration crime.
"When we talk about people smuggling, we are talking about organised crime groups who are organising human trafficking and taking vast amounts of money from people.
"Locations such as this are places where lorry drivers may see suspicious activity or people getting out of lorries and we urge them to report those incidents to us."