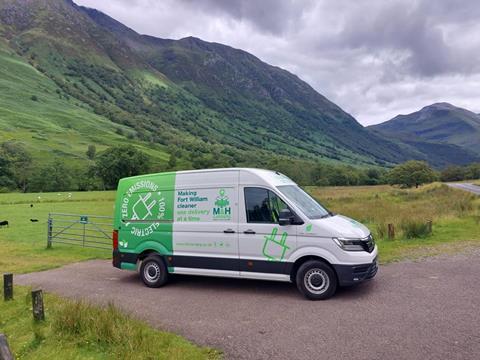 As M&H Carriers took delivery of its latest electric van, managing director Fraser MacLean made an impassioned plea this week for other hauliers to start to electrify their fleets to help cut the sectors' emissions.
The Highlands-based firm has expanded the reach of its final mile electric van fleet in the Scottish Highlands with the delivery of a MAN eTGE e-van to its fleet at its Fort William depot.
The firm began adding electric vehicles to its fleet in the Highlands in 2021, installing them across three sites to provide further geographic EV coverage.
The new addition joins nine other a MAN eTGE e-vans providing last-mile deliveries in Inverness and Elgin. Each van boasts a range of up to 130km per charge.
M&H Carriers' last-mile electrification in the north of Scotland saw MacLean invited to speak at last year's global environmental conference COP26 on sustainability and carbon footprint reduction for SMEs.
MacLean said: "Across the distribution and logistics sector, there are real conversations that need to happen about climate change and the role fleets play in it.
"While the technology isn't there yet for full fleet electrification, there are very real steps we can take to reduce our impact on the environment – especially as the public's reliance on online shopping and home deliveries increases.
"Many will cite initial outlay or infrastructure as a barrier to electrification, however we have proved that it is possible to introduce EVs in some of the remotest parts of the UK. And we're looking at how we can expand this into more of our urban delivery areas, too. So, really, there's no excuse for other businesses not to follow suit."
M&H Carriers' delivery hubs are in Aberdeen, Inverness, Dundee and Argyll – with satellite depots in Uist, Stornoway, Thurso, Helmsdale, Muir of Ord, Kyle of Lochalsh, Fort William, Oban, Tarbert and Elgin.
The company specialises in delivering parcels, freight, pallets and two-man products across Scotland.
It works with businesses, private individuals and commercial multicarrier networks including DHL, DX and Pallet Track, to provide distribution serivces to SMEs.
Read more
MacLean added: "The response to our electric vans has been fantastic, and we're delighted to be expanding the area in which we can provide clean, green deliveries to our customers.
"The health and wellbeing of the communities we live and work in is of paramount importance to us as a business and this is a very real commitment to improving the level of service we offer.
"Operationally, the electric vans have exceeded our expectations and – as range and technology improves – we are fully committed to EVs becoming a much bigger part of our operation."