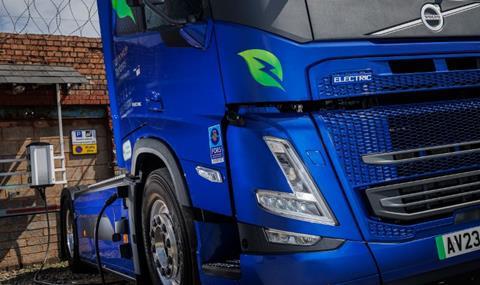 Powered access specialist Nationwide Platforms has taken delivery of two new Volvo FM Electric 4x2 tractor units in what is thought to be a first for the sector.
Supplied by Volvo Truck and Bus Centre South & East's Coventry depot, the FM Electrics will be used to pull step frame trailers transporting hire equipment to and from sites around Birmingham and the North West.
James Clarke, haulage and logistics director at Nationwide Platforms, said: "Sustainability is a key driver for the business, and introducing our first battery electric trucks is the right thing to do.
"Volvo had the product that met our sustainability commitments, and it's exciting to welcome these new electric models.
"We need the electric trucks to cover up to 150 miles each day on the routes they'll be working, whilst also providing enough power to drive our ancillary equipment," he added.
"They've been spec'd to deliver that and more, with a comfortable margin of power in reserve at the end of the day before recharging in our depots overnight."
The FM Electrics are fitted with three electrical motors generating an output of 666hp and 2,400 Nm of continuous torque, paired with an I-Shift gearbox.
For more stories tracking the industry journey to decarbonisation see our new Freight Carbon Zero website.