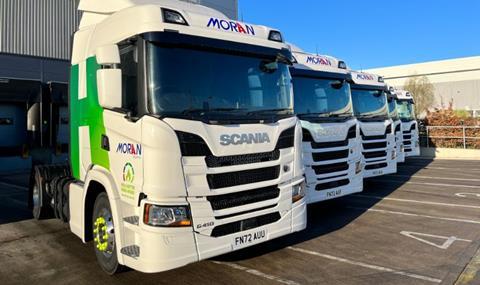 Moran Logistics have taken delivery of 15 new Scania CNG trucks at its headquarters in Castle Donnington, Leicestershire.
The new trucks, supplied by Keltruck Scania, are part of the company's wider strategy to cut its carbon emissions.
Moran Logistics specialises in the delivery of chilled, ambient or frozen food products from production line to retailer distribution centre or direct to retail stores.
It operates a fleet of around 120 trucks and 140 trailers from its HQ in Castle Donnington which also boasts a 100,000sq ft temperature controlled warehouse.
Mark Burrell, Moran chief executive, said: "This is another significant forward step in our CO2 reduction. We've made a commitment to operating in a sustainable and ethical way and this sizeable investment in asset shows that commitment in action."
The trucks, offer up to 90% improvement on CO2 emissions and cut noise pollution, since gas engines typically run quieter than their diesel counterparts - with the 13-litre CNG engine, suitable for heavy loads, meeting the PIEK noise limitation standard.
Scania's 13-litre gas engine, launched in September 2021, is available as an option on the recently introduced high-floor Scania K-chassis, which offers an increase in load capacity in the front axle by 500 kilos, enabling improved weight distribution and higher passenger and luggage capacity.
Burrell praised Keltruck Scania for its help in acquiring the 15 new trucks. He said: "The team has pulled out all the stops to make this happen for us and our collaboration with Keltruck Scania is something we continue to value."
For more stories tracking the industry journey to decarbonisation see our new Freight Carbon Zero website.