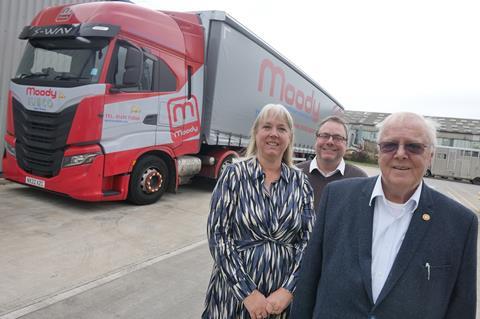 Moody Logistics is spending £1m to grow its fleet in response to growing demand for its services.
It has already taken delivery of two Iveco S-Way artics, four 18-tonne Iveco curtainsiders and a 3.5-tonne Isuzu Decker City loader.
The fuel-efficient S-Ways recently took to the roads once they were liveried in Moody's red and grey colours, as well as including a 75th anniversary logo.
The company said further trucks are on order and that it had planned ahead to overcome significant delays in the supply of commercial vehicles caused by the pandemic.
Moody MD Caroline Moody said: "This represents a total investment of £1m, which underlines our confidence in the continued growth and success of the business.
"The two biggest threats to that growth have been the national shortage of qualified drivers and the availability of new trucks.
"We solved the driver shortage by developing our own in-house driver apprentice scheme and overcame the challenges surrounding the supply of vehicles by planning well ahead.
"Normally, we order vehicles a few months before they are needed but we have adopted a longer term view to ensure we can continue to update and expand our fleet."
The company was founded by Moody's grandad David Moody in 1947 after he was demobbed following the war and started collecting and delivering sea coal.
Earlier this year the firm began leasing an additional 22,000sq ft warehouse in Ashington following a surge in enquiries for storage space.