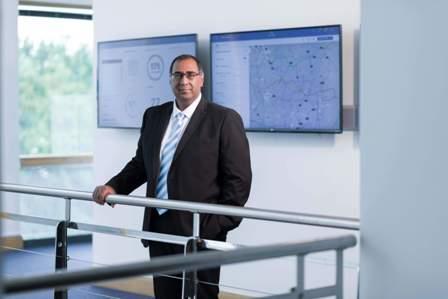 Telematics firm Microlise saw revenue rise by 14% to £57m in the 12 months to 30 June 2021, as haulage firms strove for fleet efficiencies.
The company, which listed on the London stock exchange's AIM in July, also increased its pre-tax profit to £2.2m during the period, compared with £710,000 the year before.
Microlise said its strong interim results were delivered despite the global microchip shortage, which affects its hardware products, as well as the challenges of Covid-19 and Brexit.
It said the scarcity of microchips would remain an issue for the remainder of 2021 and estimated the additional cost of premium prices for components to be around £500,000.
The growth in turnover was attributed to the 50 new customers it added during the period and also existing customers growing their fleets and buying additional Microlise products.
Nadeem Raza, Microlise chief executive (pictured), said: "We are proud of the group's financial performance in the last 12 months reflecting the strength of our long-term customer relationships and growing demand for our products.
"Our recent IPO provided us with the funds to deliver on our ambitious growth plans, including new product development as well as entering new geographies and markets where we see exciting opportunities."
Non-executive chairman Jon Lee said the group was ready to capitalise on what he described as a major growth opportunity: "Fleet operators are under pressure to meet increased environmental regulations, drive efficiencies and want more integration across supply chains," he said.
"The pandemic, Brexit and recent driver shortages have raised even greater awareness of the need to optimise the movement of goods efficiently and sustainably which plays into our strengths as a company."
Microlise said it held a leading position in the UK where customers control 88% of the grocery retail market and 58% of UK fleet operators with more than 500 vehicles rely on its platform.