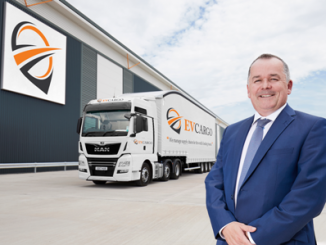 EV Cargo UK chief executive Michael Conroy (pictured) is to leave the business just two months after being promoted to the newly formed role from his former position as Palletforce chief executive, which he held for 13 years.
The group said that, in the interim, EV Cargo chief executive Heath Zarin will oversee Conroy's role.
In a statement, EV Cargo said Conroy had made "a personal decision" to leave EV Cargo, adding that Conroy had been "instrumental in the ongoing success of the award-winning distribution network since joining the company in 2008".
The statement paid tribute to Conroy's "efforts, determination and unquestionable work ethic" - which it said had seen Palletforce become "an award-winning market leader" - and his success in overseeing a £100m investment programme in the network, delivering "uninterrupted year-on-year growth" and playing an "important role" in the creation of EV Cargo in 2018.
Read more
Zarin added: "Michael's contribution and commitment to the success of Palletforce over the last 13 years has been both unwavering and exemplary. I understand he has considered this very carefully and I respect his decision.
"I would like to thank Michael, both professionally and personally, for his significant contribution to the success of EV Cargo and wish him every happiness for the future."
Last month industry veteran Adam Leonard was appointed to take the place of Conroy as Palletforce's new chief executive. His previous posts included chief executive of The Pallet Network (TPN) which he joined in 2000 as general manager, leading a management buyout in 2007.
In 2018 Leonard joined the Principle Pallet Network (PPN), launched by ex-Fortec directors Marcus Fischer and Neil Hodgson in 2016, which failed in the same year. In January 2020 Leonard returned to the sector as Palletforce's member relations director.
EV Cargo said at the time that Conroy's promotion was part of a wider strategy by parent company, Hong Kong-based EV Cargo, to boost global revenue from $1.4bn (£1bn) to more than $3bn by 2025, through organic growth and mergers and acquisitions.