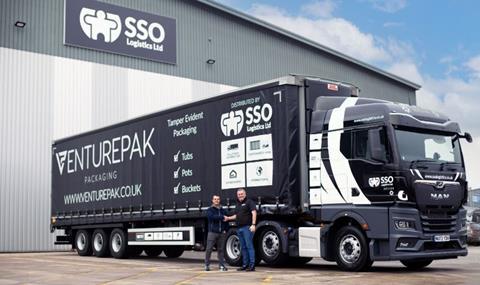 Pallet-Track member SSO Logistics has wrapped up a 12-month distribution deal with a packaging supply company after significantly reducing its damage rates.
The haulier has secured a new contract with fellow St Helens company Venturepak, which supplies injection moulded plastic containers and other packaging products to the food industry.
Venturepak turned to SSO Logistics for support having previously struggled to find a reliable logistics partner who would work on reducing its high damage rates.
Reducing damages is a major priority for the packaging supplier as it specialises in food safe containers, which cannot be used if damaged due to the risk of contamination.
SSO Logistics, which has sites in Haydock and St Helens, is transporting the goods through the Pallet-Track network.
To mark the new partnership, SSO Logistics has rolled out new livery with Venturepak branding and, following the initial success of the partnership, the packaging supplier is now planning to expand its business.
Martin Barber, director at Venturepak, said: "I've worked in the packaging industry for many years and previously struggled to find a reliable logistics partner, as I encountered the same problems with every transport company.
"Due to the lightweight nature of the products we import and distribute, they are difficult to stack and cause pallets to become top-heavy, which increases the risk of them going over and the products being damaged.
Read more
"This is a major issue as most of our customers operate within the food industry, so if products are damaged they pose a contamination risk and cannot be used. Any refused goods then must be sent back and replaced.
"The frequency of the damages was a significant cost to our business and eliminating the issue has been key to making our business more profitable.
"SSO Logistics has actively worked to reduce these issues and were our first choice of partner when setting up Venturepak.
"Customer service is very important to us, so we put a lot of time into finding a logistics partner who was willing to work with us to understand our products, the difficulties we face and transport our goods effectively enough to overcome these problems."
SSO Logistics director, Peter Draper, said: "We are pleased to have had such a positive impact on Venturepak's overall business by working with Martin and the team to mitigate the risks associated with their freight.
"For us to provide a tailored service, it was vital we fully understood the problems they were facing and introduce ETAs and rapid response times.
"As members of the Pallet-Track network, we can provide Venturepak with real-time tracking on their goods which is an additional benefit for its customers.
"The tracking technology can quickly flag any issues within the supply chain to Venturepak and ourselves, but I'm pleased to say that we have had no problems to date."
In January, SSO Logistics' international arm, SSO International Forwarding, was awarded freeport status by the government to become Liverpool's first customs site operator - an area within a freeport where certain tax and customs rules are suspended to support and encourage international trading.