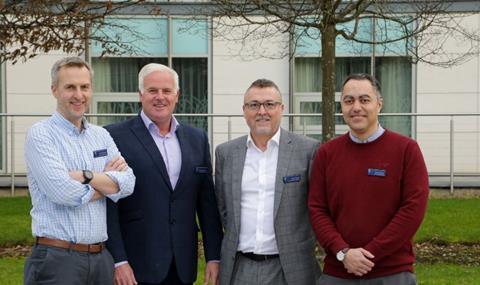 Kinaxia Logistics has strengthened its senior management team with a series of key appointments as part of major growth plans.
The appointments follow a major restructuring which has seen the company create three divisions – Distribution, Primary and Logistics & Fulfilment, in a move aimed at improving efficiency and introducing standardised operational processes across the group.
Richard Smith has joined Kinaxia as MD of the group's Primary sector business. He joins from DHL Supply Chain, where he was operations director for its Jaguar Land Rover account.
Smith has previously held senior roles at a number of logistics businesses, including Kuehne + Nagel and during his 22 year career in the sector.
Kinaxia's Primary sector business includes the Mark Thompson Transport (MTT) line haul business, which has its headquarters in Appleton, Warrington and operates nationwide with a 400-strong workforce and annual revenues of around £40m.
Smith has succeeded Mark Thompson as MD of the Primary sector business with a remit to continue its profitable growth and broaden its customer base.
Thompson has now become chairman of MTT and has taken on a group-wide procurement role. Historically, all 13 Kinaxia companies have procured locally and Mark will now bring together the purchasing process on a group-wide basis.
Paul Givelin has been promoted from group projects director to take on a broader role as commercial director. He joined Kinaxia from DHL Supply Chain last year.
His newly-created role sees him take responsibility for Kinaxia's account management and project implementation, as well as ensuring the group continues to deliver a standard, high-quality service to all customers.
Phil McBean has been promoted to a new role of group network director as Kinaxia continues to integrate its distribution businesses following the restructure. He was previously operations director at Kinaxia company Panic Transport, which is based in Rugby.
Read more
McBean's brief is to ensure each business in the group operates to one standard and to determine routes to market for Kinaxia, such as through its internal K-Link network, Partnerlink or other network partners.
As a result of their appointments, Givelin and Smith have joined Kinaxia's operating board.
Kinaxia employs more than 1,800 staff nationwide and has a fleet of over 850 vehicles which transport goods for the retail, leisure, food and drink and manufacturing sectors.
The group, which has its HQ in Macclesfield, Cheshire, has 2.7 million sq ft of warehouse facilities nationwide, and offers contract packing, e-fulfilment, returns management, storage services and a complete distribution service. Group revenues for 2022 reached a record level of over £200m.
Chief executive Simon Hobbs said: "We have created a number of new senior roles in line with our growth strategy as we look to continue our expansion during the coming years.
"Mark will keep a watchful eye over the MTT business while focusing on procurement across the group, which is a huge opportunity to capture the economies of scale available across our 13 regional operating businesses and to bring greater flexibility and innovation into our purchasing agreements.
"Paul has assumed a broader role as we maintain our focus on our customers and service standards. He will be the voice of our customers on our operating board, and his promotion is fully deserved.
"Phil's new position reflects our growing emphasis on collaboration across the group and our desire to bring more of our customer volumes into the business, where we can ensure a standard and traceable service throughout our own Kinaxia network.
"Richard is a tremendous addition to the group. He brings a wealth of experience of delivering consistent business growth, along with excellent leadership skills and strategic acumen.
"These new appointments position us well as we transition the business for future growth, with a strengthened operating board that comprises an exciting blend of entrepreneurs and experienced third party logistics leaders."