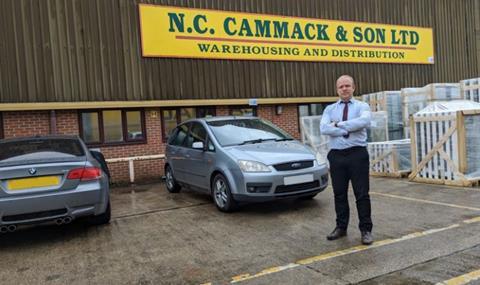 Kinaxia Logistics has created the new role of regional distribution director for the East of England.
Ian Dinmore (pictured) has been promoted from MD of Cammack to the new position, which sees him responsible for overseeing a regional area which covers the group's N C Cammack & Son business in Essex and Foulger Transport in Norfolk.
Cammack and Foulger employ a total of 170 staff and 100 vehicles and have a combined turnover of over £21m.
Dinmore joined Kinaxia in 2019 as Cammack's operations manager from Leman. He began his career in the sector in 2004 and worked at FedEx before joining MARU International, which was subsequently taken over by Leman in 2017.
He said: "It's an exciting time for Kinaxia and I'm honoured and delighted to take up this new role.
"Since joining Cammack, I have promoted quite a number of people from within, and it's been great to see them grow and progress their careers with the group.
"We have a superb team across both businesses. There is tremendous potential to grow our Foulger and Cammack operations and I'm looking forward to working with all of my colleagues to achieve our expansion plans."
Kinaxia chief executive Simon Hobbs said: "Combining both businesses under Ian's leadership will further assist Kinaxia Logistics with our operational standardisation and collaboration, enabling these two businesses to operate more closely together.
Read more
"Ian has proven his leadership skills and value as managing director of our Cammack business in Colchester. This new regional role is recognition of his success and will provide him with further personal development opportunities."
Cammack, which Kinaxia acquired in 2014, is based at the Earls Colne Business Park near Colchester.
It has 4,000 pallet spaces across 65,000sq ft of warehousing which mainly handles consignments of imported dried fruit, grains and pulses for distribution to food manufacturers, as well as lifestyle goods such as garden furniture.
The group recently invested £100,000 in a new 10,000sq ft protective canopy at one of its four warehouses, providing an area to load and unload vehicles under cover from the elements.
Cammack's warehousing facilities are approved by the British Retail Consortium.
Foulger, which is based in Snetterton, offers bulk movement of sugar beet, food and non-food items for supermarkets, gym and fitness equipment and a range of other services. The business was acquired by Kinaxia in 2015.
Kinaxia employs more than 1,600 staff nationwide with a fleet of over 850 vehicles which transport goods for the retail, leisure, food and drink and manufacturing sectors.
The group, which has its headquarters in Macclesfield, Cheshire, has 2.7 million sq ft of warehouse facilities nationwide, offering contract packing, e-fulfilment, returns management, storage services and a complete distribution service. Group revenues for 2022 reached a record level of over £200m.