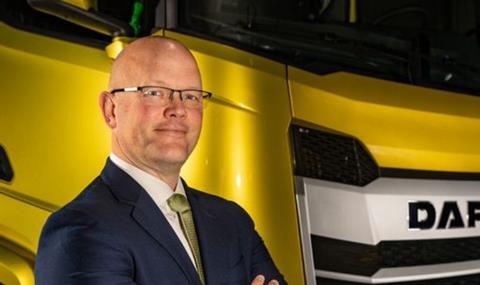 DAF Trucks MD Laurence Drake has warned that the 2035 and 2040 end-of-sale dates for non-zero emission vehicles will be "a cliff edge" without government incentives and favourable energy prices.
Speaking at a media event in central London, Drake (pictured) said there were currently "way too many variables" to predict which technology would win out in the transition to net zero.
"We don't know future diesel prices or electricity prices," he explained. "We don't know how the Treasury will react to a loss in fuel duty from diesel. We don't know if or when zero emission zones will spring up in UK cities. We don't know exactly what incentives might be deployed to encourage EV uptake. Without this knowledge we can only guess how progressive a transition might be."
Drake also called on the government to give more prominence to renewable energy, adding that alternatives like HVO were making a vast reduction to net CO2 emissions when compared to fossil diesel and were also less carbon intense than electricity which is primarily generated from fossil fuels.
"We need a clear government strategy which transcends political parties overseen by a team that has a far-sighted view to delivering ultimate sustainability in the transport of goods," Drake said. "That means one that is not weighed by the influence of vested interests, is open minded about technologies and technology solutions, and is able to back up and support innovation with projects and incentives to enable them to be tested and validated."
Drake also stressed the need for clear objectives, saying that, to be truly environmentally beneficial, end-of-sale dates should be aligned with similar hard targets to deliver renewable generation and life cycle carbon measurement without creating other unintended impacts on sustainability.
Read more
"And, of course, we must continue to challenge ourselves to reduce the overall need for transport; local sourcing, reduction in packaging, improving fill rates and wasted mileage all need to be tackled," he said.
"We must, at all costs, avoid the cliff edges of 2035 and 2040, and to do this, we must have incentives that are progressive and enable operators to investigate and evaluate electric vehicles and how their businesses need to change for the future."
Drake said government incentives would need to enable operators to plan and invest in charging infrastructure, adding that operations "would be forced to change – and sometimes change dramatically".
"Today, it is obvious that electric trucks cannot compete directly with diesel and with electricity prices likely to stay high for some time, there needs to be more to balance the cost for operators to make the early shift," he continued.
"We also need a near-term strategy that can help decarbonise existing vehicles by ensuring renewable fuels are used where possible and in the most appropriate applications. HVO makes sense in HGVs not only because it can deliver a 90% well-to-wheel carbon reduction but also because it is a drop-in alternative to diesel.
"And, of course, whichever power source is adopted in the longer term we need to ensure its source is sustainable and carbon saving – from HVO as the drop-in substitute to diesel, to the use of low carbon renewable electricity and green hydrogen made when there is surplus renewable electricity generation."
For more stories tracking the industry journey to decarbonisation see our new Freight Carbon Zero website.