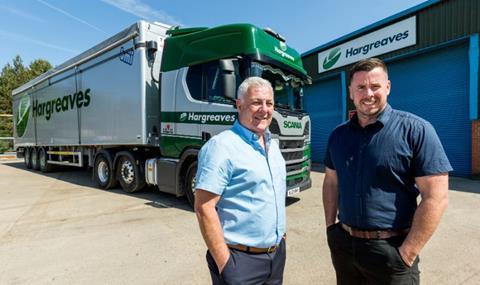 Mixed fleet waste operator Hargreaves UK Services has signed a pence-per-kilometre (PPK) contract with Prometeon Tyre Group for their Bulk Logistics Division.
The deal covers the Durham-based firm's extensive fleet of walking floor and tipper artics, together with a specialist eight wheeler rigid fleet.
Prometeon will also take on Hargreaves' Industrial Division that includes 32 trailers and 18 tractor units that work on critical infrastructure.
Hargreaves transports household waste from local authority sites to Energy Fuel Waste plants (EFWs) for recycling, and to landfill locations in the North-East.
The remainder of the fleet transfers dry bulk products such as salt, sand, ash, aggregates, and fertiliser to sites and depos around the UK.
Read more
Hargreaves requires a high volume supply of premium hard wearing tyres to suit the tough on-off segments for their waste and dry bulk fleet. Prometeon is suppling a mix of new Pirelli branded tyres from their Triathlon range for the front and rear axles, alongside its premium remould tyres.
Commented Neal Sowerby, Hargreaves operations director: "Choosing to work with Prometeon has been a sound business decision as the flexibility of their PPK contract and ongoing tyre management service means we can get the best out of every tyre, keeping our trucks and trailers operational and compliant, and we only pay when our vehicles are on the road."
Sowerby added that Hargreaves had already enjoyed business benefits through Prometeon's advanced on-line billing portal and tyre audit management: "I can see we are definitely getting good value from Prometeon compared to other suppliers," he said. "The data we are getting from them is outstanding and we can use this information to adapt our fleet tyre management to reduce excessive wear and tear on not only our tyres, but also on our trucks and trailers to avoid suspension damage and the breaking of components, ultimately reducing our overall running costs.
"I've seen how their proactive tyre management has added tangible gains and real efficiencies to our Bulk Logistics fleet, so this is definitely going to be a long term partnership with Prometeon."