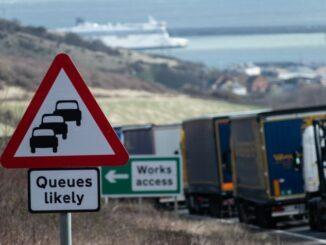 A disaster response charity has been awarded a contract by the government worth more than £200,000 to provide food and water to HGV drivers trapped in queues in Kent.
Kent County Council (KCC) handed the initial 12-month contract to RE:ACT, which was set up by the former head of the British armed forces and delivers humanitarian aid to vulnerable people across the globe, including in Ukraine.
The original contract notice, published by KCC but funded by the government's department for levelling up, housing and communities, said its plan set out how the welfare of vehicle occupants caught in prolonged queues would be provided.
The plan covers all of Kent's roads, but the council said that "the focus, per force, in recent years has been on the regular disruptions to the road networks leading to the Channel Tunnel and Port of Dover.
"The plan in particular deals with the distribution of food and water supplies to those queues of vehicles."
KCC added: "After the events of Christmas 2020 where prolonged delays resulted from the border being closed for two days, it was recognised that local response capabilities had been severely overstretched.
"It was agreed with the department for transport that a new centrally funded procurement and distribution plan was required to respond to events that were triggered by national events and where they were going to last for longer than 1-2 days."
The contract is worth £204,000.
Jon White, RE:ACT regional lead for the South East, confirmed it had secured the contract and that it would be delivered by its trading subsidiary RE:SILIENT Response: "The year-long contract began on November 25 and will initially run for 12 months," he said.
"We applaud Kent County Council for this proactive approach to helping solve this complex problem.
"All profits from RE:SILIENT's work go towards funding our charity, RE:ACT, which is currently responding to emergencies both at home and abroad, and in particular in Ukraine, where we are delivering daily hot meals to thousands of displaced people."