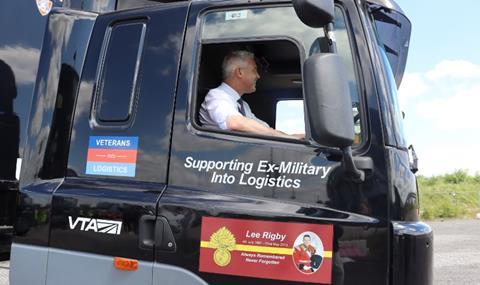 A charity that supports armed forces veterans in finding work in transport and logistics has received a £100,000 boost from the government.
The grant has been provided to Veterans into Logistics (VIL), which gives bespoke training for former military personnel who want to pursue a career as HGV drivers.
VIL said the funding from the Office for Veterans' Affairs will help it significantly uplift its training throughput, increase staff numbers and treble the amount of existing training.
The Chancellor of the Duchy of Lancaster, Steve Barclay, met with the charity and HGV employers this week to encourage them to recruit more veterans.
Darren Wright, VIL director, said: "Having the support of the Chancellor of the Duchy of Lancaster really does mean a lot to us at Veterans into Logistics and the veteran community.
"We have managed to change so many lives over the past two years, whilst contributing to the HGV driver shortage by working with some great forward-leaning companies who champion our veterans and service leavers.
"Ex-military personnel have a set of skills that the companies we work with look for in employees, they have had morals and standards drilled into them throughout their career and will keep these as a veteran, they are a dedicated, loyal breed of individual," he added.
Asda C+E driver Steve Eden was formerly in the Queens Lancashire Regiment; he said: "For the past few years, I have been suffering from depression which led to me losing my self-esteem, resulting in being unemployed for a long period of time.
"It was when I was at my lowest point that I went to Wigan Armed Forces HQ to speak to a fellow veteran for support, it was during our conversation about how I could get my self-esteem back that I explained I always wanted to be an HGV Class 1 driver like my brother.
"I contacted Veterans into Logistics and spoke with Darren Wright, also a fellow veteran himself.
"Darren invited me down to their office to meet himself and the team where we discussed what needed to be done to obtain my HGV licence.
Eden added: "Not only have I passed my HGV Class 1 driving test with Veterans into Logistics, but they also arranged a job interview with Asda where I was offered full-time employment."