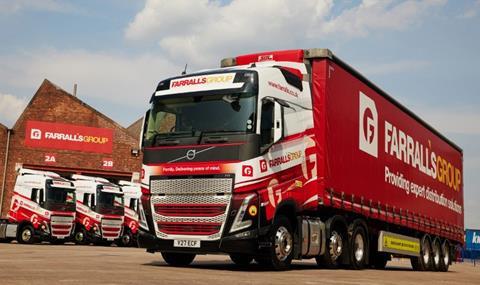 Farrall's Group has expanded its fleet with the addition of 10 new Volvo FH 500 6x2 tractor units.
MD Matthew Farrall said: "We have been buying Volvo trucks for many years and are always impressed by the driving performance, premium finish and reliability the product brings to the table. They never let you down.
"Though we do run a mix of manufacturers, the Volvo service certainly stands out."
The trucks will be used for general haulage work across the whole of the UK, with drivers often spending multiple nights a week out on the road.
As a result, the vehicles were specified with Globetrotter cabs, full leather upholstery, a microwave, fridge freezer and TV, among other creature comforts.
The trucks' red and white livery is paired with Alcoa Dura-Bright alloy wheels and rain-sensing wipers, electrically heated and operated mirrors and LED headlamps.
"Our fleet is our image, so we take great pride in making sure every truck stands out from the crowd," added Farrall.
"Getting the specification right is key to not just attracting but retaining the right calibre of driver. Thankfully, these new additions have turned heads – I've already had wind of a few drivers itching for us to secure our next Volvo order!"
The vehicles are expected to operate within the fleet for at least seven years and cover around 120,000km annually.