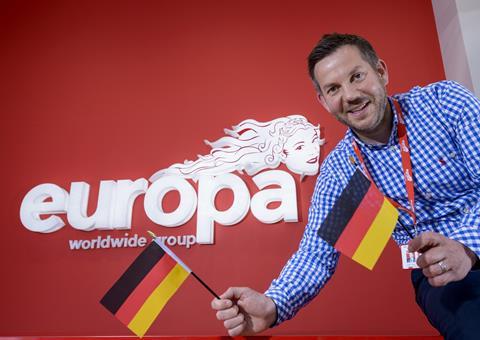 Europa Road is strengthening its German services after forging a new partnership with freight forwarding operator Noerpel.
The partnership with Ulm-based Noerpel will enable Europa to reduce export and import lead times for customers shipping to and from the South of Germany by providing an additional route offering a new daily round trip connection to the South of Germany.
The additional German service routes to Europa's purpose-built transit hub in Dartford, which already provides more than 30 daily groupage services between the UK and the Continent and has seen a 15% increase in volume year-on-year.
Dan Cook, Europa Worldwide Group operations director (pictured), said: "Noerpel is a well-established, independent forwarding company with several platforms in the South of Germany.
"Similarly to Europa, Noerpel has a dedication to European road freight and focus on innovative business processes so offer the perfect partner to boost our presence and reach in Germany.
"Noerpel stood out to us as a new German partner as their prime location allows us to transport directly between Ulm and our 1Hub facility within 24 hours, offering another seamless European road freight solution. This new partnership offers a more local service driving down distribution rates to local postcodes."
Read more
Andreas Scholten, Noerpel operations director, added: "We welcome this new partnership which will enable us to strengthen the markets between the UK and Germany in terms of safety, lead times, sustainability, and expertise.
"Working together we aim to offer customers on both sides a first-class-level of distribution. A number of our branches will use the daily managed line between Ulm and Dartford, ensuring short and reliable transit times for imports and exports. Both ourselves and Europa offer customs clearance and smooth transport services which means we can guarantee a prompt delivery service to local customers."
Europa Worldwide Group has three divisions - Europa Road, Europa Air & Sea, and Europa Warehouse.
The company sees around 40,000 consignments a month passing pass through the 1Hub terminal, aided by Europa Flow, the firm's customs service, which optimises the post-Brexit movement of goods to and from the EU.
The group employs over 1,400 people with 29 sales offices across the UK and the Republic of Ireland, plus European teams in Belgium and the Netherlands and internationally in Hong Kong, China and the UAE.
The company recently reported a record turnover of £316m for the last 12 months, as of August 2022.