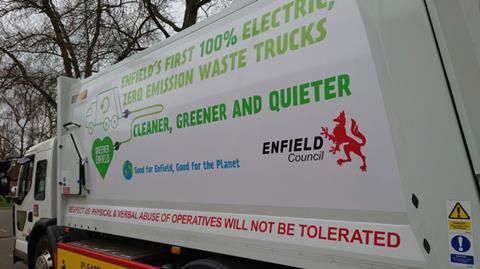 Enfield Council has worked with VisionTrack to develop an AI-powered vehicle camera for its fully-electric refuse collection truck, in order to protect the public.
The tech involves four cameras for 360-degree vision and vulnerable road user detection, along with two wing mirror cameras and an external speaker for audible left hand turn warnings.
The council said the AI cameras use deep learning technology to identify pedestrians, cyclists and motorcyclists while disregarding street furniture.
The Renault Trucks E-Tech D Wide Low Entry Cab, equipped with a CP Davidson Titan refuse body, is the first of four to be delivered and will service local households.
Read more
The electric RCV has been in development for over a year, with Enfield Council and Renault Trucks working in partnership to create a prototype that met the precise needs of the London borough.
Rick Jewell, Ccbinet member for environment at Enfield Council, said: "Our aim was to develop an electric RCV of the future that brings together class- leading technologies and helps achieve sustainability, duty of care and road safety goals.
"The collaboration with VisionTrack will provide increased protection to our residents, refuse collection teams and other road users."