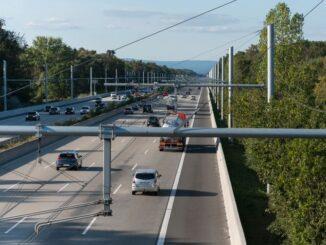 Logistics UK has repeated its call for HGVs not to be forgotten as the country pivots towards zero-carbon fuels for vehicles, following the publication of a report warning that catastrophic environmental impacts were becoming inevitable.
The Intergovernmental Panel on Climate Change (IPCC) said there was now very little chance of keeping the world from warming by more than 1.5C and its report explained how rapid cuts to fossil fuels can avert the worst effects of climate change.
Responding to the IPCC report, Logistics UK said the industry was keen to play its part, but calls to bring forward net zero plans by a decade meant it required much more support from the government.
Michelle Gardner, deputy director of policy at Logistics UK, said: "Figures released by the Department for Transport (DfT) showed that as of October 2022, the total number of public electric vehicle charge points across the UK was 34,637.
"This falls woefully short of the 300,000 target the DfT has set for 2030 and it is vital that the pace of public charging installation increases to ensure targets are met in time for the phase-out dates of diesel and petrol vans and cars.
"It is also crucial that commercial vehicles – which typically require larger bays, longer reaching cables and a rapid-charging ability – are considered throughout installation to ensure that the logistics industry can continue to efficiently deliver to every sector of the UK economy," she added.
Logistics UK also complained about a lack of clarity over the best method to transition HGVs away from diesel fuel, with electric batteries, hydrogen fuel cells and overhead electric cables all suggested as viable alternatives.
Last year, the Centre for Sustainable Road Freight said catenary cables along key routes could charge smaller batteries in lorries and was cheaper, technologically ready and "surprisingly effective".
Gardner said: "While trials are underway, these will take time and as a result, the lack of certainty is making it harder for businesses to plan future investment, especially as significant infrastructure will be needed to support alternative fuels and technologies."
For more stories tracking the industry journey to decarbonisation see our new Freight Carbon Zero website.