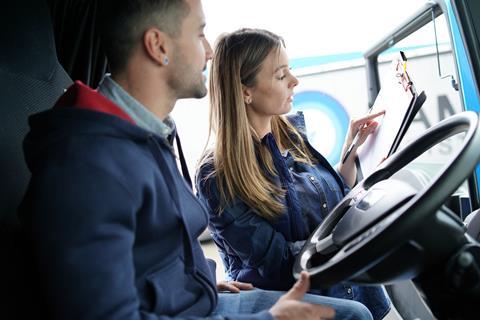 The government has no plans to assess the safety impact of the relaxation of HGV drivers' hours, despite extending the scheme this week to the end of October as part of wider plans to continue it for another four months.
According to union Unite, the DfT has confirmed in correspondence with the union that "there is not an impact assessment" of the ongoing extension to the maximum number of hours a lorry driver can drive.
The union has condemned the stance and is warning that government plans to extend the deadline by another four months will act as a deterrent to UK HGV drivers considering a return to the industry.
Under the relaxation, HGV drivers can now work for up to 11 hours a day, compared to the normal maximum of 10 hours, and a total of 99 hours a fortnight, compared to the previous 90 hours, with rest periods also reduced.
Unite general secretary Sharon Graham said: "The government's admission that it has not assessed the road safety ramifications of persistent longer hours for lorry drivers is shocking.
"HGV drivers and road users can be rightly angry about ministers' failure to take their safety seriously. Small wonder that this industry struggles to attract and retain a workforce.
"Unite is working with lorry drivers to address the very real problems they face, which to date neither the industry nor the government have shown any interest in addressing."
Read more
Unite has raised concerns about driver safety after it was confirmed that drivers will continue to be allowed to drive for additional hours until the end of October with the expectation this will continue until the end of January. Since March 2020 HGV driving hours will have been extended for 11 out of 19 months.
Unite is warning that by extending driving hours, workers are at increased risk of fatigue and the longer the period when driving hours are increased the greater the cumulative effect of fatigue.
Unite national officer Adrian Jones said: "For most of the last year and a half, lorry drivers have been expected to work extended hours.
"Drivers will not return to a sector when the hours on the road can be extended at a whim by government and with no proper regard to road safety.
"Drivers are already exhausted and as we enter late autumn and winter, when driving conditions are poorer, the danger of accidents will inevitably increase."
The DfT recently revealed in a consultation document considering the relaxation of the extension of the drivers' hours, a low level of take up of the scheme by hauliers. The document stated that between 12 July to 8 August 2021, the DfT received just 515 notifications from operators intending to use the relaxation. Of those 515, 213 sent in follow-up forms on how they used the relaxations, of which 63 indicated that they had not, in the end, used the relaxations.
Dft has yet to respond to a request for comment on the latest extension.