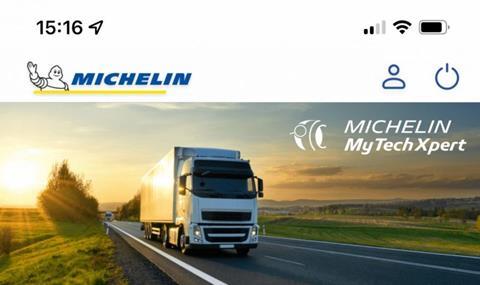 Michelin has made a new free-to-use app available to tyre dealers and fleets, helping them access the latest technical information about its products.
MyTechXpert is available for iOS and Android devices and Michelin described it as an evolution of its technical data book.
Steve Chadwick, brand manager at Michelin Tyre said: "We wanted this to be more than just an electronic copy of the previous data book, so from the outset the app had to add real value for customers.
"One huge advantage is that it will always be up-to-date – there's no more waiting for next year's book to come out to get the latest info.
"Plus, we've packed MICHELIN MyTechXpert with hundreds of high-quality reference images which allows users to zoom in and study particular details – incredibly useful when you're trying to match examples of damage or irregular wear against our extensive database of images."
Information hosted within the app includes full technical data on over 200 Michelin commercial vehicle tyres, from the smallest 6 R9 MICHELIN XTA trailer tyre, to the largest 525/65 R20.5 MICHELIN XS fitment, designed for heavy trucks operating on soft sand.
The app also provides a guide to performing a detailed tyre inspection, helping users to identify wear and damage to the tread, sidewall, inner liner and bead – and to understand the probable causes.