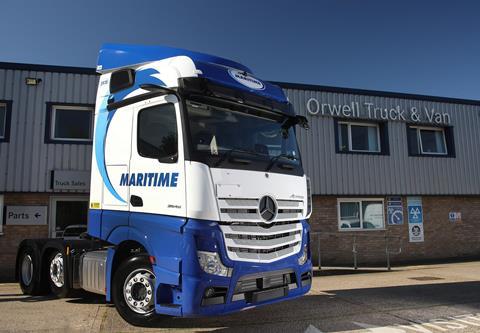 Maritime Transport has added 100 new-generation Mercedes-Benz Actros tractor units to its fleet - its first order from the manufacturer since 2017.
The Felixstowe-based operator made the move after successful trials of a demonstration unit supplied by East Anglia Dealer Orwell Truck & Van, which it said proved impressively fuel-efficient and popular with drivers.
The company added that the demonstrator was already undergoing evaluation by Wincanton when its container transport business was acquired by Maritime last autumn.
Explaining the move, Maritime fleet director Paul Heyhoe, said: "We'd found that with our 16- and 17-registered Actros the mpg returns started to improve after they'd been on the road for between a year and 18 months, and continued doing so for a while.
"The demonstrator's fuel performance, by contrast, was really good from the outset. We took the vehicle off day-time work and gave it to one of our long distance trampers, then compared the figures with the 18-plate truck he'd been in previously. The demonstrator was a full mile per gallon better, and right up there with the very best on the fleet in terms of economy."
Maritime's new Actros are all 2545 models with flat-floored BigSpace cabs – in which the operator has specified additional Kuda lockers – and 12.8-litre, in-line six-cylinder engines producing 330 kW (450 hp).
The new units also feature Mercedes-Benz Trucks' MirrorCam system, providing improved rear vision and eliminating forward-facing blind spots.
Read more
Mercedes-Benz also estimates fuel economy is improved by up to 1.5% through reduced wind resistance from the compact and streamlined camera housings.
Other standard features include upgraded interactive versions of the multimedia cockpit, which replaces traditional switchgear; Active Brake Assist 5, the latest emergency braking aid, which now employs a camera as well as radar, and is more responsive to pedestrians crossing the truck's path; and enhanced Predictive Powertrain Control, which manages gear changes for optimum efficiency.
"The drivers have taken quickly to MirrorCam and particularly like the new dashboard," Heyhoe added.
The multimedia cockpit features a larger 12in instrument panel and offers extra functionality, including satellite navigation.
Heyhoe also highlighted the Electronic Parking Brake (EPB), introduced last year and now also a standard feature on new Actros and Arocs models. This is applied automatically whenever the driver opens their door and the vehicle is not moving.
"It's a nice step forward," he said. "Safety is our number one priority at Maritime, so we're keen to embrace any new development that can alert our drivers to risk and help to prevent accidents. The EPB gets a big tick from us."
Also key to Maritime's continued reliance on Mercedes-Benz trucks, Heyhoe said, is the support it receives from Orwell Truck & Van, and its fellow members of the manufacturer's franchised network.
"Main dealers undertake all of our inspections and maintenance," he said. "Fleet sales manager Rob Dale and his colleagues at Orwell provide a brilliant service. When we do have an issue, as you always will with even the best trucks, they'll work with us to achieve a speedy resolution."