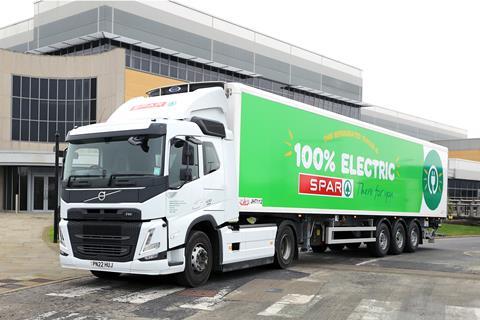 James Hall & Co's transport and logistics department has taken delivery of the company's first fully electric refrigerated trailer as part of plans to cut emissions and beat the demands of the increasing number of city centre clean air zones.
The Lancashire-based family firm, which operates as a primary wholesaler to Spar retailers across the North of England, has operating licences for 105 trucks and 82 trailers and delivers to almost 600 Spar stores.
The refrigerated trailer, from Gray and Adams, is the first in the company's fleet to have an electric refrigerated motor rather than a diesel one, and was chosen as part of the company's ongoing programee to cut emissions.
The new trailer, which will transport products to SPAR stores across the North of England, has had a special green livery put on to it to mark it out from others in the fleet.
The company's Spar Distribution Centre in Preston has a facility to charge the battery and pre-chill the load space.
When off-site, the battery pack provides a five-hour reserve run time to support the trailer's fridge when it is not moving and when it is without a mains supply.
James Hall & Co said this latest investment into the new trailer is part of its continuous replacement programme and its commitment to running a greener fleet.
Read more
Ian Farnworth, fleet engineering manager at James Hall & Co , said: "We are very pleased to take delivery of the new trailer and it looks fantastic in its special livery.
"It is a first for us as a business and the trailer is already delivering savings when out on the road. We will be monitoring its performance with interest over the coming weeks and months.
"While it is supporting a reduction of costs on diesel as an associated benefit, at the forefront of the decision to invest in the trailer is the benefits it brings to the environment.
"We are also aware of an increasing number of cities and metropolitan areas within our patch that are implementing clean air zones and we are conscious of these factors when making investment decisions."