It is essential that hauliers take part in the current consultation over London's ULEZ to make it work for them.
Speaking at last week's Freight in the Expo at Alexandra Palace, Lucinda Turner, acting director of TFL borough planning, said responses were crucial as TfL works through the details.
"The consultation process is a real opportunity to understand how we can support you and make sure the different initiatives on environment and safety are integrated," she said.
Following a first stage that ran for three weeks in July, stage two of the consultation process is seeking to provide more detailed information about the proposals and runs until 18 December.
Last month the London mayor's office confirmed it was pushing to bring the start date of the ULEZ forward from September 2020 to September 2019.
It will require diesel vehicles to meet the Euro-6 standard 24/7 in central London or pay a £100 daily fee.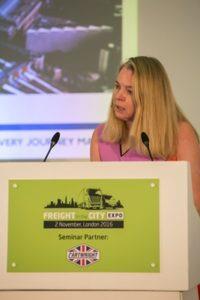 "The mayor is also pushing for a London wide expansion for the requirements for heavy vehicles (coaches, buses and HGVS), which will require these to meet Euro-6 everywhere within the current LEZ boundary [by 2019].
"And finally we are looking at expansion of the ULEZ for cars, vans and motorcycles to an area roughly bounded buy the north/south circulars," said Turner.
The mayor also wants to introduce an emissions surcharge, subject to consultation, that will commence on the 23 October 2017 and require vehicles entering the existing congestion charging zone during charging hours to be at least Euro-4.
If they're not they will pay an additional £10 on top of the Congestion Charge.
"The emissions surcharge is a stepping stone to the ULEZ. We estimate that around 10,000 vehicles a day – including 2,000 vans and 400 HGVs a day - will be liable for the surcharge," said Turner.
"The mayor has made it clear this is a major priority for him and we need to make faster process.
"We do recognise however at the same time that there are challenges involved for you in the industry in meeting these new standards. We want to work with you," she said.