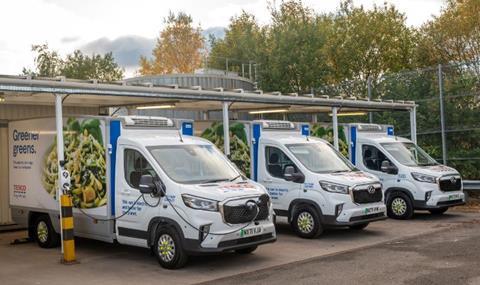 Haulage operators planning to install an electric charging infrastructure should learn from serious mistakes made by some bus operators who failed to make them future-proof when switching to electric in 2016.
The warning comes from Keith Watson, director of EO Charging eBus and eTruck division. The Suffolk-based company is a turnkey service to bus and truck operators looking to install electric charging systems at their depots.
Speaking to MT, Watson said that once operators commit to installing a charging infrastructure, they need to make sure it is future proofed, something bus operators learnt the hard way.
He said: "We advise our clients to try not to make the mistake that a lot of the bus operators made who looked at electric as an experiment.
"So for example some of the bus operators who began with a route for 10 electric vehicles only installed enough infrastructure and power for those ten vehicles and then found that they were having to almost rip out what they put in initially.
"So we spend a lot of time talking to operators about scalability and in getting operators to think a little bit bigger than just a one or two vehicle trial."
The company takes potential customers to meet bus operators so they can talk to them about their experience of making the transition to electric. "We find that these visits take away the anxiety they may have about making that switch," Watson explained.
EO's turnkey package includes the design, manufacture and installation of the electric charging stations and ongoing maintenance and servicing.
Its charging infrastructure also gives operators full control of the installed chargers and constant power consumption monitoring. Customers include both Amazon and Sainsbury's.
Ensuring there is sufficient energy to power an electric fleet as it grows is also a key consideration, Watson added. "If an operator has a plan to go zero emission over, say, the next five to ten years we can talk about the ceiling they will require and we can work an Independent Distribution Network to get a ramping agreement which will reserve energy for the operator for a number of years, because as the market goes electric there is going to be a huge demand on the grid."
Installing charging infrastructure does not come cheap. The cost to fit one 22 Kw AC charger, which can charge one vehicle overnight, starts at around £6,000, whilst a more powerful 120 kw DC charger, that can charge two vehicles overnight, comes in at £35,000, Watson said.
Unlike the bus sector, which was provided with government grants of up to 75% to fund their charging infrastructure, there is currently little financial support for haulage operators, he added.
However using a turnkey solution is one way of keeping costs down and, once the charging infrastructure is up and running, Watson said operators can generate additional revenue via their charging infrastructures by allowing other hauliers to pay to use their infrastructure and by selling energy back to the grid.