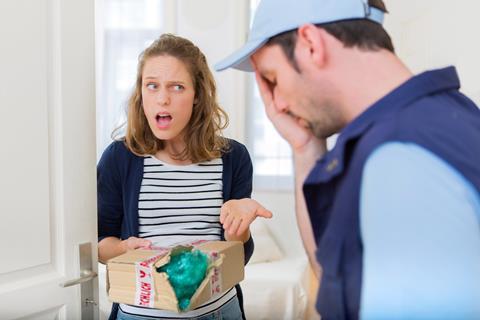 Daniel Defoe saw Glasgow as a city of contradictions and today polls still appear to bear that out, with its citizens the most likely to face lost or damaged parcels – after truckers named it their favourite delivery destination.
Residents in Glasgow were found to be the most likely to be unhappy with their deliveries, following analysis of 60,000 monthly searches from consumers searching for complaints advice.
The Scottish city had an index score of 100, topping a list of 20 places where people suffer the most from missing, delayed or damaged goods.
Leeds, Newcastle, Manchester and Edinburgh made up the top five cities where people make the most complaints about parcels.
Read more
At the end of last year, a survey of HGV drivers found Glasgow came out top of UK cities they said it was a pleasure to work within.
More than one in 10 (12%) cited good traffic conditions and easy-to-find locations.
Jordan Wesley, e-commerce and order management system expert at Mintsoft, which compiled the latest findings, said businesses may need to look deeper into their current operations to ensure customers are kept happy and satisfied: "With the ecommerce sector continuing to boom, it's so crucial that you're able to keep the delivery promises you make to customers," Wesley added.
| | | |
| --- | --- | --- |
| Rank | City | Index score |
| 1 | Glasgow | 100 |
| 2 | Leeds | 88 |
| 3 | Newcastle | 84 |
| 4 | Manchester | 81 |
| 5 | Edinburgh | 80 |
| 6 | Nottingham | 77 |
| 7 | Derby | 74 |
| = | Bristol | 74 |
| 8 | Sheffield | 61 |
| = | Hull | 61 |
| 9 | Stoke-on-Trent | 60 |
| = | Birmingham | 60 |
| 10 | Liverpool | 59 |
| 11 | Southampton | 54 |
| 12 | Belfast | 53 |
| = | Coventry | 53 |
| = | Bradford | 53 |
| 13 | Leicester | 52 |
| 14 | Greater London | 43 |
| 15 | Cardiff | 37 |