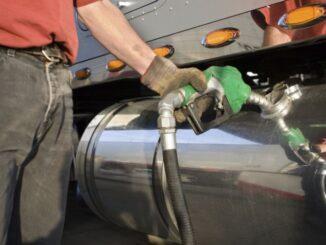 Fuel prices are falling for the first time in months, as the price of oil drops but experts warn prices will still remain high for the foreseeable future.
Brent Oil, the market for crude oil prices, fell below $95 a barrel last week for the first time since Russia's invasion of Ukraine in February, down by a fifth since the previous month, rising to $105 a barrel at the start of this week.
The AA is reporting that average pump prices for petrol have fallen from 191.53p a litre for petrol and 199.07p a litre for diesel at the start of July to 188.76p for petrol and 196.96p for diesel.
It calculates that UK prices are around 1% lower from a record high earlier this month.
Meanwhile, the EU-wide average has fallen about 4% from a June high to €1.96 (£1.67) a litre, European Commission data shows.
AA's fuel price spokesperson, Luke Bosdet said: "Wholesale petrol's trajectory, if sustained, would lead to savings of a tenner off a tank from the record highs, providing the fuel trade is prepared to pass them on."
Bosdet noted that price cuts in the UK have yet to be seen in many forecourts despite than six weeks of wholesale costs falling.
Read more
This reflects concerns raised by the Competition and Markets Authority's (CMA) review into fuel pricing which found "cause for concern in the growing gap between the price of crude oil when it enters refineries, and the wholesale price when it leaves refineries as petrol or diesel".
The CMA has now launched an in-depth investigation.
David Cox, an independent energy analyst, told the BBC that while oil prices have dipped they are likely to remain high due to the war in Ukraine.
He said: "It's difficult to see how crude does anything but go up, while the war rages, and that's not good news in the medium term for petrol prices," he said.
He said it would be difficult to replace the loss of Russian oil supplies. "The trouble is, you just can't replace the volume of oil that Russia produces," he said, adding that even if the United States manages to persuade Saudi Arabia to export more oil, the price was unlikely to shift back.
"There might be minor changes up and down, but essentially crude is likely to keep marching upwards and that will keep the pressure on petrol prices upwards too."
Tom Kloza, global head of energy analysis at pricing group OPIS said yesterday that although the retail price has fallen "large increases for gasoline and crude oil in futures' trading today," meant that the price fall is only a respite whilst the war continues.
He said: "My thesis is that this is an interlude or reprieve - it's intermission. And this play, which is probably a tragic comedy, has at least one more act."