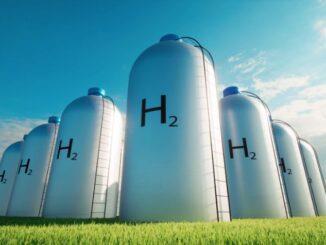 Energy and automotive brand First Hydrogen is bidding for government funding for two green hydrogen production projects in Carrington, Greater Manchester and the Thames Estuary.
The company is seeking funding via the Net Zero Hydrogen Fund (NZHF).
The £240m programme, which is funded by the Department of Business, Energy and Industrial Strategy (BEIS), is part of a government initiative to promote the production of home-grown green hydrogen.
First Hydrogen's two projects aim to have an initial capacity of 40 MW each. Both sites are in regions with hydrogen growth strategies with First Hydrogen's bid for funding supported by the Greater Manchester Combined Authority and the Thames Estuary Growth Board, as well as by Inovyn, a subsidiary of hydrogen producer Ineos.
Read more
Announcing its bid, First Hydrogen said that the new projects will provide the company's automotive customers with a "substantial" part of their green hydrogen needs to operate their fleets of First Hydrogen fuel cell light commercial vehicles, producing a combined 7,100-plus tonnes of green hydrogen per year.
Nicholas Wrigley, First Hydrogen Group executive chairman, said: "Having received support from respected economic and energy authorities for our projects, we are hopeful that our applications will secure funding to finance our first green hydrogen production sites.
"These sites will ultimately supply our automotive customers with a guaranteed supply of green hydrogen, which is critical to the adoption of hydrogen mobility and creating a zero-emission transport sector.
"First Hydrogen recognizes the role it will play in achieving these targets and meeting fleet demand and building upon the first submission, is working to identify additional production sites for future funding rounds."