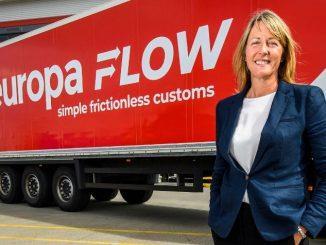 Europa has warned that more stringent rules on imports into the UK, due to be introduced on 1 January 2022, will present major challenges to the logistics sector in the months ahead.
Sales and branch network director Dionne Redpath (pictured) said the 3PL giant had now successfully tackled the "absolute horror story" created by the UK's departure from the EU.
However, she added that this was merely a transitional period and the next big change will come at the turn of the year when current easement on UK imports ends and goods will need to be fully cleared before being delivered.
"Businesses in the same game as Europa are fixated on it," she told motortransport.co.uk. "By 1 January, shipments arriving into the UK will need to be cleared by customs before they can be delivered to the end user. That's quite a change. Today we have time to take care of that paperwork and get customs clearance.
But as we go towards the end of the year the easements start to dissipate and we're preparing for the wholesale change on 1 January. It's entirely where our focus is."
Redpath said the biggest challenge would be to get UK importers who are not freight customers to engage with Europa about how they want clearances to look.
"There's a process that needs to be embedded in our own process so goods flow smoothly and customs clearance has been done before we release them for delivery," she explained. "Do you want us to do them? Are you going to do them yourselves? How are we going to set up that infrastructure? It's about engaging UK paid customers to make them understand the importance of working with us so come 1 January everybody is ready and knows what to do. Finding those people is a significant challenge in itself and we've put a lot of effort and manpower into it."
Read more
Redpath went on to admit that, despite launching its Europa Flow product to minimise Brexit border delays last September, the early weeks of this year had been tough to manage with customers struggling to grasp new customs rules.
"January was absolutely dreadful," she said. "The first two weeks of February were the same, but then we started to turn a corner. We made some dramatic refinements in our IT systems, working with our customers.
"Some of the issues were ours and some were with our customers. We worked through all the problems but it was a real slog and a very difficult time.
"The problems came with customers getting the paperwork right," she explained. "Not that they were unprepared. But planning is one thing, doing is another thing entirely. We had to work extra hard to make sure the information our customer was presenting to us was at the right time in the right format. Some of our processes needed refining. In the first couple of weeks it didn't work.
"But our customers were very, very willing to be guided on when to present invoices and how to change them. We were very open and they were flexible and understanding. We spent an enormous amount of time working with them. We put a fantastic 'need to know' pack and video together about HS codes, origin, duty, invoices and packing lists. It was also used in the broader sector – to help people get to grips with the customs conundrum."
Redpath insisted the process was now "working soundly and everything has settled down beautifully".
"Up to the end of June we've moved 45,000 Europa Flow export consignments," she revealed. "The total value of goods within the Europa Flow bracket being exported is £68m.
"Europa Flow allows the importer to zero rate their VAT. It removes all the hurdles and hassles for the importing customer. The estimated VAT that's zero rated per month is £14.28m. It's astonishing. There are massive benefits."