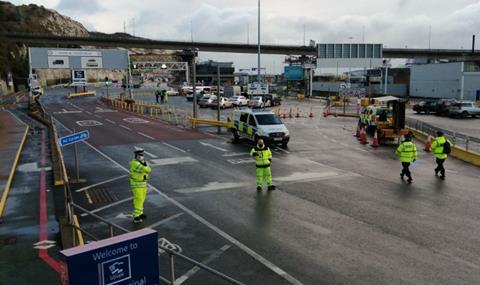 Crimestoppers is appealing to hauliers to help stop people smuggling with the launch of a hard-hitting campaign.
The campaign - "Say no to people smuggling" - is calling on HGV drivers to report any suspicious activity they see and follows the recent jailing of seven men for a total of 92 years following the deaths of 39 Vietnamese migrants who suffocated in the back of a refrigerated trailer whilst being smuggled into the UK.
The 39 victims, including two teenagers, were found in the back of the truck in Purfleet in Essex in 2019.
Crimestoppers is working with HMRC and Border Force to distribute leaflets to lorry drivers asking them to report suspicious behaviour.
Hauliers are being urged to contact Crimestoppers anonymously if they suspect other drivers are being approached to carry items for payment, see false driving licences or driver identification; witness regular breaches of security within the port complex they visit; or see suspicious or unusual activity by people or vehicles around the truck.
Mick Duthie, Crimestoppers operations director, said: "Haulier drivers can be approached by people smugglers, hence why we are reaching out to them to help us stop this cruel trade.
"We know that people smuggling is driven by criminal gangs who exploit migrants for financial gain. Smugglers can operate alone, or in small gangs, or they can be part of a large international crime operation.
"The consequences of their actions were evident in the tragic loss of life seen when dozens of Vietnamese migrants died from suffocation whilst being transported in a sealed refrigerator lorry in Essex.
"Every death as a result of immigration crime is a tragedy and we hope that we can help prevent further harm and suffering by catching these callous smugglers who care little for the welfare of their victims."
Miles Bonfield, NCA's head of organised immigration crime operations, said: "What happened in Essex in October 2019 shows clearly that this is not a victimless crime.
"People smugglers put lives at risk, day in, day out, and these criminal networks often try to use hauliers as part of their business model. We want hauliers to help us make that as difficult as possible.
"My message to hauliers is that we need your help to try and disrupt this dangerous criminality and I'd ask them to report anything suspicious. But I'd also like to put out a warning to those who might consider in engaging in this activity. We and our partners are targeting everyone involved in people smuggling, and the penalties are severe."
The RHA welcomed the campaign. Infrastructure director Tom Cotton said: "This is a fantastic move and we fully support it. RHA has been working with its members and the NCA for some time on reporting any suspicious activity that might indicate modern slavery practices at the warehouses and depots they deliver too and we welcome this initiative as well."