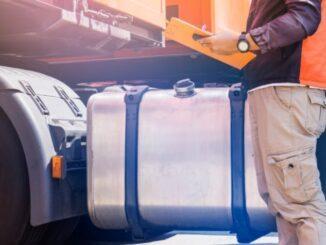 Proposals to increase fuel duty by an unprecedented 23% in a matter of months and buried in an official report have "alarmed" the industry and would stifle economic activity, according to hauliers.
The detail, hidden in a report by the Office of Budgetary Responsibility (OBR) and not raised during the Chancellor's autumn statement this week, was described as "a body blow" by Logistics UK, which is now seeking urgent clarification on the measure.
The increase equates to an additional 12p per litre of diesel at the pumps and an additional £4,850 for running a 44-tonne truck.
If it went ahead, it could result in haulage companies failing due to the narrow margins they are already operating within.
However, speaking to the BBC on Friday morning, Chancellor Jeremy Hunt said a decision on the fuel duty increase had not been made: "Let me clear that up, that is not government policy," he said.
Read more
"We will make a decision on that at the next budget in the spring. That was just an assumption that the OBR made – they're an independent organisation, they make assumptions and we have made no decision on that at all."
Fleet management and leasing firm Holman said any increase of that magnitude was unprecedented: "Fleets cannot operate or plan with such a huge potential cost hanging over them," said Holman UK MD Nick Caller.
"An extra 12p per litre of duty on top of already exorbitant fuel bills would, undoubtedly have a major impact on all UK businesses and indeed risk the sustainability of a number of those that rely heavily on fuel to operate."
Following the Chancellor's statement, Conservative transport select committee MP Greg Smith asked him if he would look at the inflationary impact of fuel duty and see if it could be reduced, due to the impact on the haulage and logistics sector.
Hunt replied: "I assure my honourable friend that I will absolutely do that.
"We have a little time, and I know that fuel duty is an important issue to him and many other colleagues."