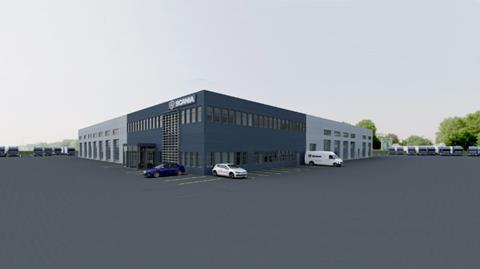 Scania will open a new £10m regional headquarters close to Glasgow later this year.
The 43,000sq ft, 7.8-acre plot at Eurocentral will replace its existing operation in Bellshill and will include 12 workshop bays, an ATF lane, parts department, office accommodation and secure parking for 50 trucks and trailers.
"Scotland has been a key market for Scania since we began importing trucks into the UK back in the mid-1960s," said Martin Hay, Scania (Great Britain) MD.
"Our continued sales growth and exceptional levels of service have seen our Scottish network grow from a single location into eight professional service centres today."
This year also marks the arrival of Scania's range of electrified vehicles and the Eurocentral premises will be capable of maintaining and charging its plug-in hybrid and full battery electric trucks.