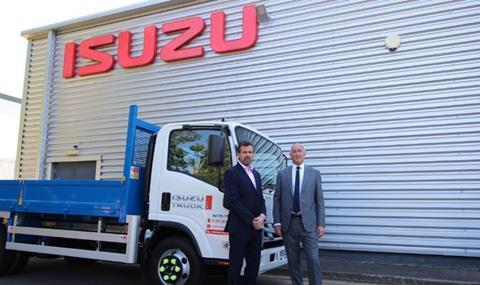 Isuzu Truck UK (ITUK) has announced expansion ambitions for the remainder of 2022 as it celebrates its 25th year in the UK.
The truck builder said Brexit had made its supply much more streamlined and vehicles now came fully assembled direct from Japan, which enabled it to quickly expand new truck sales.
As a result, ITUK has forecasted a doubling of the unit sales achieved in 2021, which was previously a record year for the company.
Pete Murphy (pictured left), ITUK MD, said: "ITUK benefits greatly from being a part of a giant global parent company but, at the same time, we are allowed a significant amount of autonomy which enables us to control our own destiny.
"We are able to make decisions which positively impact directly on the UK market, with the full support of our colleagues in Japan, and can quickly implement those plans and strategies to the benefit of our customers."
Building on its plans, ITUK has appointed Stuart Beeton (right) as its head of sales, product and marketing: "Stuart brings an amazing pedigree of expertise to our business from his previous roles and is already implementing a forward-thinking strategy that will see ITUK achieve unprecedented levels of market penetration not just in 2022 but for many years to come," said Murphy.