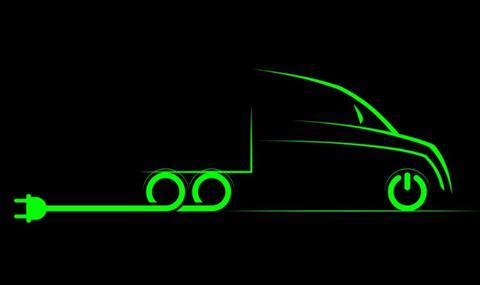 A consortium led by HGV drivetrain systems developer Meritor has been awarded £31.9m of government funding to develop a "game changing" heavy duty electric truck.
The consortium - which also includes engineering firm Danfoss Editron and Electra Commercial Vehicles, a UK integrator of battery electric commercial vehicles - is known as the Electric Powertrain Integration for Heavy Commercial Vehicles (EPIC) consortium.
The EPIC project, which will be based in Cwmbran in Wales, will integrate the motor, inverter, gearbox, differential and brakes in a single lightweight system for trucks and buses up to 44 tonnes.
Meritor vice president and chief technology officer, John Bennett, said: "With this award, our consortium will develop a game-changing electric powertrain for heavy-duty 4x2 and 6x2 vehicles up to 44 tonnes.
"This technology will provide commercial vehicle OEMs with the optimal solution to meet EU 2025 CO2 reduction targets, in addition to a host of other product benefits including greater efficiency, reduced weight, longer-range capability and far greater application flexibility when compared to existing systems."
Meritor's European truck vice president, Ken Hogan, added: "This grant will put Meritor's highly-skilled Welsh-based engineering team at the forefront of advanced commercial vehicle technologies, positioning South East Wales as the premier location for companies developing clean transportation and technologies.
"Meritor's existing air disc brake facility in Cwmbran will house a new European eMobility Centre of Excellence with expanded laboratory and R&D facilities."
The EPIC project is one of three schemes that have won a total of £54m of funding. The other two projects involve motorsport technology for car motors and hydrogen fuel cells for buses.
Announcing the awards, business secretary Kwasi Kwarteng said: "The UK is leading the world by developing cutting edge technology that will help to tackle climate change and lead to a green, competitive future for our automotive supply chain.
"These projects will not only help accelerate the wider application of greener technology in lorries and buses, but will also help generate the high-skilled jobs to level up communities across the UK while ensuring we build back greener from the pandemic.
Transport Minister Rachel Maclean added: "As we look to reduce our carbon emissions, strive towards our net-zero goals and level up right across the UK, the whole transport sector will need to embrace new innovative technology such as green hydrogen and these projects are a fantastic example of doing just that.
"I'm proud to see the UK leading the way in the global transition to zero-emission vehicles. In the next decade, we'll continue to be at the forefront of their design, manufacture and use as we build back greener."