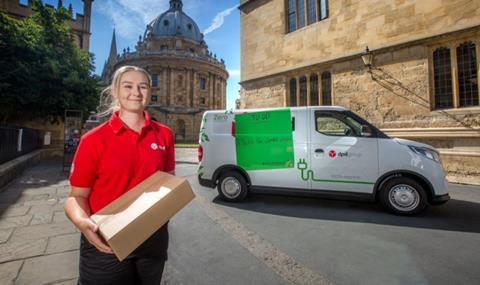 Parcel delivery firm DPD is covering up its logos on its trucks this week with a giant sticky note stating: "Tackle the Climate Crisis" as part of as campaign called the World's To Do List.
The campaign, which comes ahead of the critical climate summit in COP26 in Glasgow at the end of October, consists of 17 goals for sustainable development - a plan adopted by all UN member states in 2015 to end poverty, conquer inequality and tackle the climate crisis by 2030.
Major companies around the world, including DPD, have pledged to champion at least one of the 17 Global Goals and take actions within their own organisations to help achieve them, as part of this year's Global Goals Week, which kicks off today.
The campaign will also see the participants using "sticky notes" with messages to highlight the goals.
DPD's goal is to make major changes to its operation with low emission delivery to 225 European cities by 2025, aimed at making progress towards Goal 13 - Climate Action.
Read more
The parcels delivery giant is also using a "Tackle the Climate Crisis" sticky note, which will cover the branding on its vehicles and DPD buildings as well as the firm's websites.
Tim Jones, director of marketing, communications and sustainability at DPDgroup UK, said: "Covering up our logo isn't something we would normally do. We are incredibly proud of our brand. But these aren't normal times. The climate crisis is real and, while we know that we are part of the problem, we are committed to playing our part and demonstrating to others what is possible.
"Over the last 10 years we have been working hard to reduce our CO2 emissions across our operation and by 2025 we aim to cut them by 30% and deliver to 80 million people in Europe with low-emission delivery means. In the UK, we can see this plan taking shape already in Oxford, the first of 25 UK cities to experience all electric only deliveries from DPD."