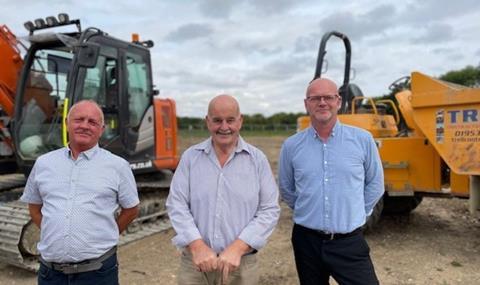 The Bartrum Group has invested £6m in a new 70,000sq ft warehouse and 6,000sq ft office block at its Suffolk HQ.
The family-owned firm reported record storage demand in 2021/2022 and said the most appropriate way of achieving growth was through expanding its warehousing offer.
Having initially considered commercial developments in Bury St Edmunds, Stowmarket and Ipswich, Bartrum eventually purchased land locally in Eye.
The development will be completed early next year.
Read more
As part of the 3.7-acre land transaction, a 25-year roof lease was agreed, allowing neighbours Permastore to install and benefit from a 1.4MW solar array consisting of 3,700 panels.
Longstanding employee, transport operations manager John Youell - whose father Fred Youell was employed by founder Leonard Bartrum and stayed with the business for almost four decades - was chosen to perform the official ground-breaking ceremony.
Tremayne Johnson, Bartrum operations director said: "It's incredibly rewarding to see the Bartrum family invest so significantly in a new facility such as this. It sends an incredibly positive signal both to our customers and our workforce alike and the finished warehouse will be a great addition to the business. And from an environmental perspective, I'm delighted by the fact that the roof area will be almost entirely covered with solar panels."