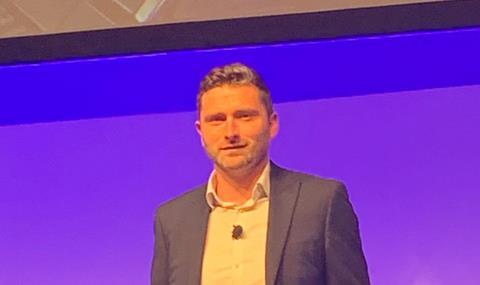 Richard Skidmore, head of customer service delivery with Mercedes-Benz Trucks, has urged the industry to embrace the benefits of increased collaboration to save costs and improve efficiencies.
Speaking at last week's Microlise conference, he said the pandemic had accelerated three trends – electrification, automation and connectivity ­­– and that the sector should work more closely on building customer solutions.
"Mercedes Truck works in partnership with other suppliers, but what we haven't done in the past is work with the end customer," he said. "That doesn't necessarily mean going to the same meeting with someone from BP, but working on solutions with people at the OEMs, fuel companies, telematics companies, trailer companies and customers. That's where we've started to see industry moving to."
Mercedes-Benz has seen a growing opportunity for collaboration since the launch of its multimedia dashboard which hosts different driver apps, Skidmore explained.
"We put training apps and manuals on there at first, but when we realised we could also use third party applications things got interesting," he said.
"We set up workshops with our customers and created apps for partners like Wren Kitchens and Continental which were absolutely ground-breaking.
"We're testing a BP fuel app for Wren that allows the driver to go to the petrol station, pick a pump number, fill up and drive off; it's that simple. And the truck knows how much fuel has gone in, and BP knows how much has been sold, so theft is very difficult.
"It's an example of working with another supplier to create an integrated solution for our customers which is a growing trend."
Next for Mercedes, Skidmore said, would be an increasing focus on the functionality of the truck, but led by the customer: "So for us, the future of the truck app portal is about collaboration with other suppliers and the added value for the operator, helping them weather the industry headwinds," he said. "We're asking what would help them and whether suppliers can work together. Could that give cost efficiency benefits?
"By having this innovative mindset enables us to open doors we previously thought were closed and offer huge benefits to customers."