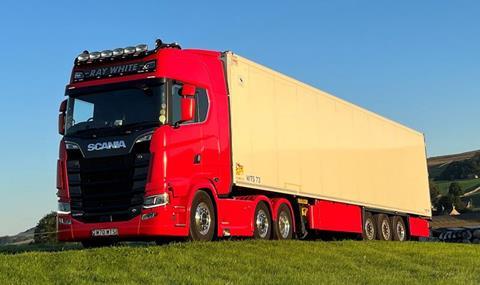 Family-run European perishable foods haulier Whites Transport Services has blamed soaring fuel and energy costs for its decision to wind down the business.
Founded in 1992 by haulage veteran Ray White, the Hungerford-based company owns 18 Scania and Volvo trucks and a range of refrigerated trailers, which it estimates to be worth up to £4m.
Ray's son, Pete White, transport manager at the firm, told MT that cost pressures had made the decision inevitable but confirmed that all the firm's drivers had already found new positions.
"As a family it's what we want," he said. "We've achieved everything we want to achieve and we feel that with the residuals as high as they are, and the uncertainly with what's to come with energy prices and fuel prices, we just want to take the money and run."
White said the firm had decided not to implement a fuel surcharge, saying it "wasn't' fair" for customers to absorb extra costs: "We just discussed it month by month," he said. "We didn't demand anything. We just came to an agreement. Our attitude to transport is common sense."
He added that he expected many smaller operators to close in the months ahead: "I've had a dozen hauliers message me to say they feel exacty the same," he said. "They think it's a good time to get out. But it only works if you've got a decent amount in the bank or a lot of assets to sell.
"We would probably have made more money by selling the business," he said, "but we wanted to make all the decisions ourselves.
"We've built up a very tidy sum of assets in our trucks and trailers and the sale of the equipment is where the majority of the money is going to come from."
Contrary to some reports, White insisted Brexit had nothing to do with the decision: "That made things busier and more difficult for us but we just feel our equipment is so valuable that's it's the optimum time to cash in," he said. "Without even trying I've sold about £1.5m of it already."