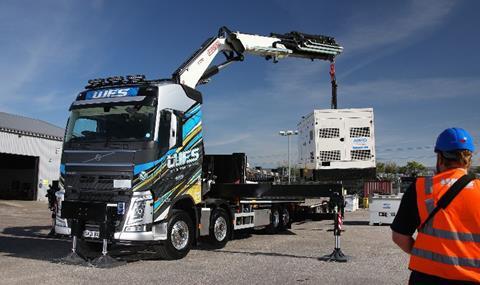 West Thurrock-based Warton Freight Services has marked its 30th anniversary by putting a 70-tonne/metre Fassi crane onto a brand new Volvo FH 8x2 rigid.
The company turned to the truck manufacturer after monitoring the performance of six seed Volvos and being wowed by the results.
Steve Barclay, Warton director, said: "We'd heard good things about Volvo and we wanted to see how they would perform.
"I was invited for a visit to the Volvo factory in Sweden by our local dealer and I was really impressed with the design and quality of the product.
"This led us to take on two FH tractors, two FM 8x2 rigids and two FM 6x2 rigids and compare them closely to what we had been running previously.
"It was the real-world performance that put them in pole position for this latest order."
The FH will be in operation up to six days a week, delivering a range of heavy loads across the UK.
The company has also had the new truck designed with a limited-edition wrap.