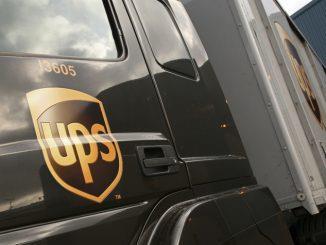 UPS said it was working hard to mitigate an increase in 'cash on delivery' (CoD) transactions taking place when goods are delivered, after concerns were raised about drivers' safety.
Incidences of CoD have risen since the beginning of the year, due to the UK having left the European Union and deliveries subsequently attracting duties and levies, which couriers are collecting.
The Unite union said CoD was a major health and safety issue during the Covid-19 pandemic, due to drivers not being able to socially distance from the customer and also because the virus is transmissible on notes and coins.
However, the union also said it had concerns that UPS drivers were becoming a focus for criminals as they became aware they were carrying cash around with them.
It said it also knew of a case in the West Midlands, in which a UPS driver was assaulted when delivering a guitar after informing the customer there were additional charges to pay.
Unite national officer Matt Draper said: "Unite has today advised its members at UPS to stop accepting cash on delivery payments as a matter of safety.
"It is simply intolerable that our members are being assaulted and becoming potential robbery victims because UPS has not resolved a better method to collect additional charges from its customers.
"When huge sections of society including many delivery drivers and couriers have gone cashless in order to prevent the spread of Covid-19 it is simply outrageous that UPS is making new demands that drivers collect cash from its customers."
Responding to Unite's comments, a UPS spokesman said the safety of its workforce was its number one priority: "We have processes, systems and procedures in place designed for their protection," he said.
"We have modified and will continue to review and update, our normal operating procedures to maintain social distancing protocols as per the latest government guidance.
"We are aware and working diligently to mitigate the increase in cash on delivery shipments caused by the new customs requirements.
"People are counting on UPS more than ever and we are grateful for the hard work of all our people who continue to deliver what matters."