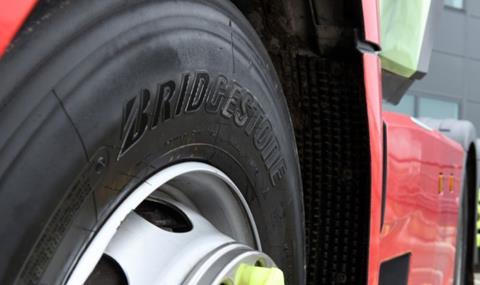 Stobart Energy has given a thumbs up to Bridgestone's 24/7 fleet service network which has recently delivered a record breaking breakdown response in the first quarter of the year.
Bridgestone said this week that its latest statistics show that the Bridgestone Partner network, which is made up of hundreds of independent tyre dealers, is on course for its most efficient year in terms of breakdown responses.
From 1 January 2021 to 31 March 2021, average response times from phone call to assistance stood at a record breaking 48 minutes, and 45 minutes to get the vehicle operational again.
Bridgestone customer Stobart Energy, in partnership with AW Jenkinson, runs a combined fleet of 750 vehicles – the largest walking floor fleet in the UK. The company transports 30,000 tonnes of waste and fuel each week around the UK.
Simon Cartwright, Stobart Energy logistics director said: "We were well aware of the quality and performance benefits associated with Bridgestone's tyres, but the commercial agility shown through the Bridgestone Partner network was something that really resonated.
"It really impressed us, as we knew we'd be dealing with independent tyre dealers who are passionate in providing a memorable service, precisely because they are running their own businesses. This model really appealed to us."
Services include tyre husbandry, an emphasis on setting correct tyre pressure and a detailed review of removed tyres, to avoid premature removal.
Bridgestone's UK Fleet sales manager Ian Davis said: "One of the number one priorities for our fleet customers is uptime. A breakdown is every fleet manager's worst nightmare and knowing that we react so quickly is a big feather in our cap.
"We also co-ordinate regular tyre maintenance meetings and an innovative digital reporting system on correct tyre pressures and general tyre life also equate to less breakdown calls when drivers are out on the road, leading to better productivity and ultimately, a more satisfied fleet."