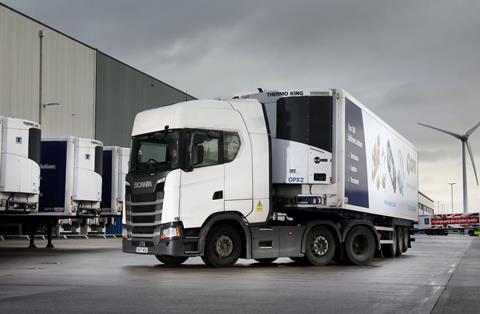 Swindon-based OPX Logistics has added ten refrigeration units to its fleet in a move aimed at cutting its emissions and helping it acheive its aim of eventually becoming net zero.
The ten Thermo King SLXi refrigeration unit systems, which were supplied by Marshall Fleet Solutions, have been fitted to newly purchased solar-powered refrigerated trailers supplied by Gray & Adams.
Developed by Thermo King, the SLXi refrigeration units are designed to deliver ultra-fresh cargo to tight schedules while cutting operational costs and CO2 emissions by lowering emissions, waste, and noise pollution.
OPX Logistics currently has a fleet of 70 vehicles that range from Scania trucks to Euro 6 trucks. The company said it has a strategy of expanding its operations with environmentally-friendly vehicles to help it ensure an emission-free future.
Read more
Ryan Gower, OPX Logistics senior operations director, said: "When we started to expand our business, one of our main priorities was to work with companies who share our environmental values and ethics while maintaining operational excellence. That is exactly why we chose Marshall Fleet Solutions."
Maria D'Andrea,Marshall Fleet Solutions national sales manager, said: "We continuously strive to develop innovative solutions that meet our customers' requirements while ensuring high environmental benefits. We are thrilled to be collaborating with OPX Logistics by providing a product that offers unbeatable quality and significant cost savings."
Gower added: "We are very excited to have these brand-new trailers and refrigeration units joining our fleet, as we know the quality of products from Gray & Adams and Marshall Fleet Solutions is second to none.